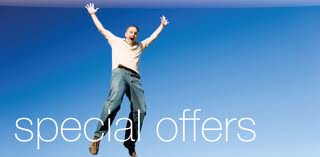 3 Fantastic Offer - see below for more details........
The current global economic environment, specifically the vagaries of information and lack of confidence in Greece, Italy, Portugal and Spain continues to ripple around the world. Add into this mix the USA and is it any wonder Europe is finding it increasingly difficult to handle mounting sovereign debt uncertainty, and economists seemingly scripting 'coin toss' predications and forecasting in respect to economic outcomes both here and abroad.
Well, thankfully Australia is in somewhat of a much stronger economic position than most other countries, yet personally, we still suffer some of the same misgivings of confidence in our own financial wellbeing. Though for most, protection, contraction and debt reduction would seem the obvious goals for 2012, but how do you apply the right processes, how can you actually enjoy a win and take financial control of our own situation?
At SME Financial Services have 3 great limited time offers, putting money where our mouth is if you like, by providing the following opportunities.
Offer 1 - Book give-away (CLOSED)
5 copies of Michael Lee's recently released book ' Mortgage Free Debt Free' to be given away by 15 February 2012. To qualify for the draw simply register your interest in learning how Mortgage Planning can help you to better financial outcomes and lower debt - see below for more information. As an Independent Mortgage Planner we advocate everything in Michael's book except we've taken our service to the next generation. REGISTER HERE.
To initiate greater discussion on what may be possible, please feel free to complete our one page financial snapshot (non-application and without obligation) and return by email, fax or post. On receipt we will undertake an initial assessment then call you to discuss.
Offer 2 (CLOSED)
$500 discount or refund for taking up our Mortgage Planning Services. This offer is open to the first 10 clients taking up our services and expires on 31 March 2012.
Want to know more about our Mortgage Planning Services - CLICK HERE.
Offer 3 (CLOSED)
$500 by way of refund from new insurance, super or portfolio management. The offer may be applied to cover the cost of a financial plan. This offer is open to the first 10 clients taking up our Financial Planning Services and expires on 31 March 2012.